A More in-depth look…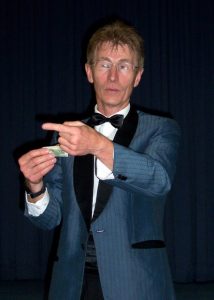 For Trevor, performing magic for entertainment is not just about 'tricks', but rather it is about connecting with people – touching people's lives. Trevor dresses impeccably, will custom tailor his performance to suit your special occasion and offer a service based on absolute reliability, integrity and the highest of standards.
The memory that is left behind, is about how special your event was and like seeing an awesome movie, your guests will keep reliving in their minds, the magic that happened right in their own hands and literally under their noses. Every show has different dynamics and in this fast moving world, one never knows what people are going through in their lives. As a corporate magician, Trevor knows just how and when to approach the guests, being sensitive enough to the mood of his audience and finally leaving them with an experience that they will reminisce about for a long time – and actually want more!
Over the past 20 years, Trevor has been engaged to perform at weddings, dinner parties, cocktail parties, corporate functions, product launches and trade shows. He has worked for high ranking companies such as L'Oréal, Liberty Life, Bateman, Old Mutual, Kelloggs, Venture Web, Foskor, Aspen Pharmacare, Kolok and ICL. More and more companies such as these, find the use of a corporate magician to be invaluable to the success of their function. What's more, they continue to hire him back – see the testimonials